Register as a New Patient
Before registering with Donaghadee Health Centre you must complete a BSO registration form, a New Patient Questionnaire and return them along with your Medical Card to the Health Centre.
Once you have completed the Application Form please forward it to us together with your signed Medical Card. If you have lost your Medical Card please ask us for a HS200 form. If you have never had a UK Medical Card click on the 'BSO Forms' tab to download a HSCR1 form.
The BSO and New Patient Questionnaire forms are available from reception or by clicking on the links below.
Within UK and NI
For outside Northern Ireland and UK
Our Practice area is shown opposite; please note whilst we do have patients residing in Carrowdore, we are unable to accept new patients from this area.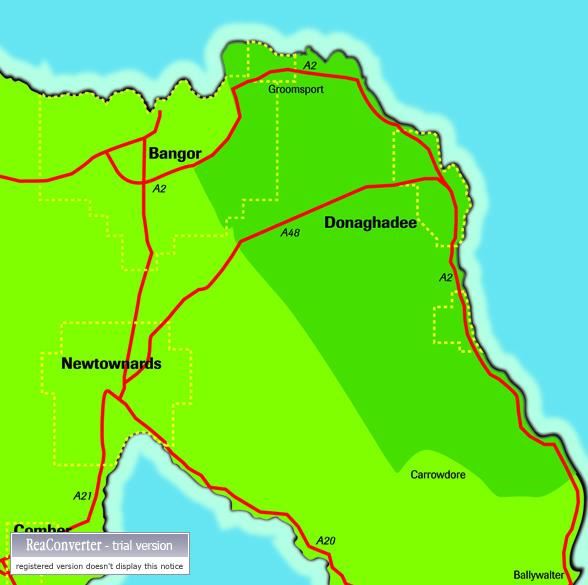 New Baby Registrations
Please ensure you register a new baby as soon as possible. This will ensure any information from the hospital will be forwarded directly to the Practice without delays and ensure appointments will be scheduled and sent appropriately for the baby clinic.
Temporary Patient Registrations
If you are ill while away from home or if you are not registered with a doctor but need to see one you can receive emergency treatment from the local GP practice for 14 days. After 14 days you will need to register as a temporary or permanent patient.
You can be registered as a temporary patient for up to three months. This will allow you to be on the local practice list and still remain a patient of your permanent GP. After three months you will have to re-register as a temporary patient or permanently register with that practice.
To register as a temporary patient simply contact the local practice you wish to use. Practices do not have to accept you as a temporary patient although they do have an obligation to offer emergency treatment. You cannot register as a temporary patient at a practice in the town or area where you are already registered.